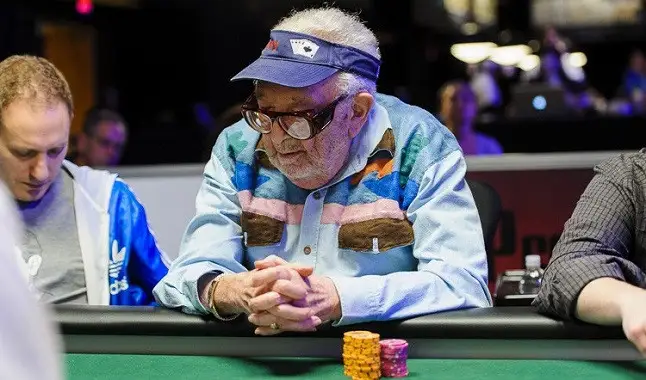 Today's poker star is Polish legend Henry Orenstein.
Born in Hrubieszów, Poland, on October 13, 1923, Henryk Orenstein is a poker pro and businessman. Henry currently resides in Verona, New Jersey, USA. A Holocaust survivor, Henry came to the United States as a refugee after the war. In his lifetime, Henry divided his time between poker and life as an entrepreneur, owning 100 patents on the market, one of which includes Transformers toys. Despite being recognized in the poker world, Henry made his money through toy design and manufacturing.
Join our channel on Telegram - Clicking HERE!
Life
Born in 1923, in Poland, Henry lived in a Jewish family. Raised in Jewish dogma, Henry was eventually deported from Hrubieszów to Nazi concentration camps. After the end of the war, Henry took refuge in the United States, the country he remains to this day.

Along with his three brothers and his parents, Henry went to "live" in Olyka, Ukraine, as soon as Nazi soldiers invaded Hrubieszów in 1939. In Olyka, the Orenstein family stayed for about two years. The family then returned to Hrubieszów, where the Orensteins built a secret hideout. But food and water had run out, and the Orenstein family had surrendered to the German army.
Check out all TODAY'S MATCHES and follow them live!

At that time, his parents were taken to the cemetery, to be killed and buried. Henry and his brothers went to Budzyn Prisoner Camp. After that, Henry and his brothers ended up going to Plaszów, where they were transferred to the Ravensbruck concentration camp in Germany.

During this period, Henry heard on the radios that any scientist there could register in an office, and with that, even without being a scientist, Henry enrolled his brother and him in the office, believing that this was the only opportunity to survive the concentration camp. This turned out to be successful and Henry managed to survive the Nazi concentration camp.
Contact with poker
His contact with poker came only after his life as an entrepreneur. Amidst so many patents and creations Henry created a way to make poker tournaments more dynamic on television. Orenstein created a way that players' face-down cards could be seen by the public. So Henry created a table with a piece of glass on top, where a camera went under it, so the audience could see which cards were on the table, without disturbing the players.

That said, even Jon Miller, president of sports programming at NBC, acknowledged that Orenstein was "alone responsible for the success of poker today". In addition, Orenstein was also the creator and executive producer of several shows such as the Poker Superstars Invitational Tournament and TV High Stakes Poker.

In 1996, Orenstein was present at the World Series of Poker tournament series. On that occasion, Henry participated in the $5,000 Seven-card Stud, where he managed to be champion and pocketed the sum of $130,000, taking his first and only WSOP bracelet. Also, in previous years, as in the case of 1993, Orenstein was present at the WSOP for the $10,000 No Limit Texas Hold'em Main Event, but was unsuccessful in becoming champion.
Fortune with poker
With poker alone, in 2009, it was revealed that Orenstein held a fortune in excess of $200,000. For his contribution to the sport, in 2009, the Polish was introduced to the Poker Hall of Fame. In addition, Orenstein was also inducted into the New Jersey Inventors Hall of Fame.

Play now at the biggest online poker house in the world, PokerStars!

Discover the best online sports bookmakers!