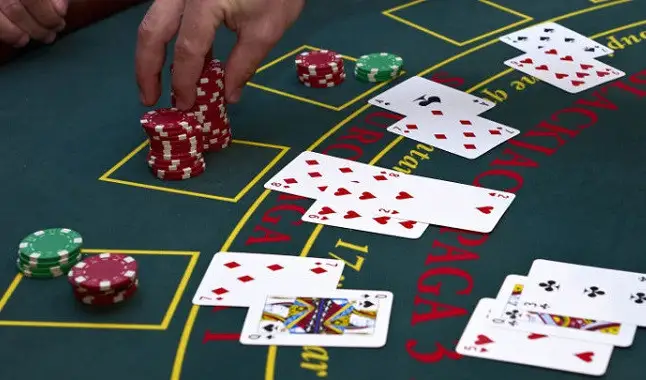 We will show you how to use this strategy in Blackjack.
Recently, we presented an article teaching you the first steps in playing Blackjack. Within our article, entitled "Learn to play Blackjack", we show that there are some types of strategies that can be used throughout the game, depending on how your hand is in that specific round. We chose to explain them in separate materials, so that you will have a greater content to deepen, gaining knowledge and experience to evolve in this card game. Thus, today we will debate what it is to double in Blackjack and when to use this tactic.
This is an interesting
strategy
for you to increase your winnings in a round, because doubling means placing twice the initial bet amount. This decision should only be made if you are confident in a strong hand, after analyzing the cards received (and the dealer's card as well) and making the winning probabilities. So it is not recommended to use it at any time, as it is not just luck, but a well done assessment.

You are allowed to double as many times as you want in a game of Blackjack, but you can only do it once per round. In addition, it will not be valid if you have received an outgoing Blackjack, or have already applied for a card, or placed an insurance bet (we will discuss this strategy in another article).

So now we will explain some important tips, in addition to go through some basic rules:

After the starting hand, when it is your turn to make the decisions, you can ask to fold. The moment you request it, the dealer will give you another card. Very important detail: if you choose this strategy, you will not be able to ask for more cards, your round will be finished regardless of the value of the card received.

Therefore, two cards from the starting hand + 1 card after deciding to double = round ended.

But when to double?
Like any bet, this game also has probabilities, and after the cards on the table, you can already analyze whether you have a better chance of winning or losing. Of course, the variations in Blackjack are so great that you would hardly be able to retain, we are only talking about the basics, but it is extremely important to know and master to extract the maximum profit and minimize your losses.

- When the sum of the two initial cards is 11: most of the strategies in this game will recommend that you double when your two initial cards add up to 11. It is logical, because with this value you are not in danger of bursting if you ask for another card, in addition to be a great number in probabilistic terms for Blackjack or a strong hand. With that sum, you have almost a 54% chance of finishing the round with a value above 18, and more than 30% of making Blackjack itself.

- When the sum of the two initial cards is 10: in this case, it is also advisable to double your game, but with careful. If the dealer's face-up card is worth 10 or is an Ace, it is recommended not to use the strategy, as in this case it is the dealer (croupier, dealer) who will be taking advantage, as they have a greater chance of obtaining a Blackjack, through the rules and statistics.

- When the sum of the two initial cards is 09: you must double if the dealer's card that is face up has a value between 3 and 6, since statistically these are easier values ​​to lose a round, after turning over the rest of your cards .

When folding is not recommended?
Unless you have a value in hand that is 11, you will never be advised to double if the dealer's card is an Ace, King, Queen, Jack and Ten. In that case, he will be more likely to get close to 21 or do Blackjack itself.

In addition, whenever you have a hard hand, that the sum does not represent 9, 10 or 11, we indicate that you do not double. With values ​​greater than eleven your chance of losing will be greater than the chance of getting a strong hand, between 18 and 21. With values ​​less than nine, you will be limiting yourself to a potential value for your hand, because as you remember , the moment you ask to double your round it automatically ends, regardless of the card that comes.

Learn to play BlackJack

Bet wherever you are through the best online bookmakers!