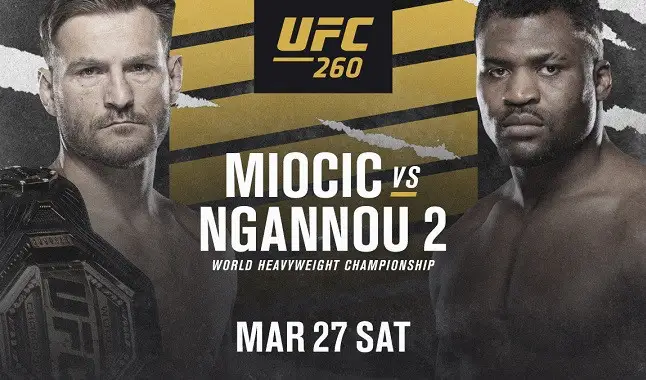 A rematch for the belt! Check out everything about the fight between Stipe Miocic vs Francis Ngannou.
This weekend, there will be another great event for fans of mixed martial arts, this time, valid for UFC 260. Thus, through this article it will be possible to find everything about the fight between Stipe Miocic x Francis Ngannou, the main attraction of the night.

The stage for this great event will be
UFC APEX
, in
Las Vegas
, in the
United States.
There will be four fights on the main card and another six valid for the preliminary card.
The main event will have the heavyweight defense of
Stipe Miocic'
s belt. On the other side, we will have Francis willing to take the belt for himself, in this way, promising to be another great fight.
Stipe Miocic vs. Francis Ngannou - Heavyweight
Stipe Miocic
is an American fighter who is 38 years old. He started his professional career in
MMA
in 2010, currently having 23 fights in his cartel in the world of fights.
Of these 23 fights, he emerged victorious on 20 occasions, having suffered only 3 defeats. There were 15 wins by knockout and five by decision, whereas the defeats were two by knockout and five by decision.
The American, in addition to being a fighter, is a
firefighter-paramedic
in his state.
In MMA, he started his career at events like
NAAFS
and
Moosin
. In the UFC, he had a great start, largely because his first six victories were all by knockout.
His official UFC debut took place only in October 2011, at UFC 136, with a victory over Joey Beltran, by unanimous decision.
Subsequently, in 2012, he fought 3 fights, having won two of them, over Philip De Fries and Shane del Rosario. However, in the third fight of that year he was knocked out by Stefan Struve, thus losing his unbeaten record.
Between 2013 and 2014, he hitched 3 consecutive wins, against Roy Nelson, Gabriel Gonzaga and Fábio Maldonado. In December 2014, he was defeated by the Brazilian Junior dos Santos, Cigano, by unanimous decision.
After the defeat to the Brazilian, he was defeated only once, and since then it has been 8 victories and one defeat. In addition, in 2016 he ended up winning the belt by beating the Brazilian Fabrício Werdum at UFC 198.
After winning the belt in Brazil, he successfully defended it three times, until losing to Daniel Cormier, at UFC 226, in 2018, by knockout. Since Miocic's career has been more victories than anything else, he ended up regaining his belt a little over a year later, when he beat Cormier by technical knockout in 2019.
His most recent match took place in August 2020, when he once again defended the belt against Cormier, having won by unanimous decision. With that, he broke the record for most successful defenses for a belt in the UFC heavyweight division, accounting for 4 defenses. Added to this fact, he also holds the record for consecutive belt defenses, adding up to 3.
In addition, the record in number of bonus fights is also by Miocic, with nine. Now, he will go again with all his strength to continue maintaining his brilliant career.
Francis Ngannou
is a 34-year-old Cameroonian fighter, and like his opponent, he is another big name in the category. His trajectory started in 2013, and so far he has 18 fights in his cartel.
Known as "
The Predator
", he won 15 out of 18 fights, with 3 losses. There were 11 wins by knockout and 4 by submission, while his two losses were by decision.
His trajectory in the sport started in European events, mainly in the French "100% Fight". With that, after starting with 5 triumphs and one defeat, he quickly got the curiosity of Dana White, who ended up closing with the athlete.
His
UFC
debut took place only in December 2015, at UFC on Fox, when he beat Luis Henrique by knockout. Subsequently, from the same year until 2017, he scored six consecutive victories, knocking out fighters like Curtis Blaydes, Alistair Overeem, Arlovski, among others.
In 2018, he ended up suffering his first two defeats in the Dana White competition, and it was consecutive. The first, was for Stipe Miocic by unanimous decision, winning the belt. After that, also by unanimous decision, for Derrick Lewis, at UFC 226.
Despite having gone through this bad moment, he is doing very well, having emerged victorious from his last 4 fights. In these triumphs, he went through names like Blaydes once again, Cain Velásquez, Junior Cigano dos Santos and Jairzinho Rozenstruik.
So far,
Ngannou
has won the Performance of the Night award five times. Now, he must enter the octagon with everything in search of a new triumph, trying to maintain the momentum.
The night takes on a more special flavor because the Cameroonian has been waiting for this rematch against Miocic since 2018, aiming to be the
UFC
heavyweight champion.
UFC Betting
This fight already promised strong emotions, with two great fighters of high level. However, it is not only that, in addition to being worth the heavyweight belt, it is a long-awaited rematch. For this reason,
MMA
fans can expect strong emotions in a very close fight.
Although it is difficult to appoint a favorite for this match, the guess is in Francis Ngannou, who arrives at a great time. With that,
Bet365
has an odd worth @ 1.72 to win the Cameroonian.
As for the North American's victory,
Bet365
has a great odd worth @ 2.10.
Bet on UFC fights through the best online bookmakers!