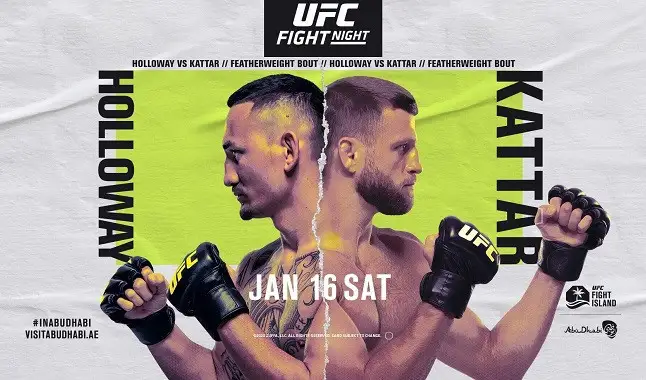 Opening the UFC 2021 season, check here everything about the fight between Max Holloway and Calvin Kattar.
This coming Saturday (16), there will be the big event valid for the 2021 season of UFC Fight Night, and here you will find everything about the fight between Max Holloway and Calvin Kattar, the main fight of the night. The venue for the event will be UFC Fight Island, in Abu Dhabi, United Arab Emirates.
There will be about five fights for the main card and others for the preliminary card. On the main card will be the main fights of the night.
Check out all the matches today and follow them live!
The fight involving the Americans Max and Calvin promises a lot, as it is a long-awaited fight and both are among the six best fighters in their category. Thus, they seek victory in order to further improve their ranking. So, check out everything about the fight between Max Holloway and Calvin Kattar, the main attraction of the night.
About Max Holloway
Max Holloway is a 29-year-old American fighter. Nicknamed "Blessed", he started his professional career in mixed martial arts in 2010. Max's MMA cartel has 27 matches, having won 21 of them and defeated 6.
In his triumphs, 10 were by knockout, 9 by decision of the judges and 2 by submission. In the defeats, 5 of them were by decision and one by submission.
The American is a former featherweight champion of the Ultimate Fighting Championship, and started in competitions like X-1 and UIC. However, due to his talent and skills, he soon went to the UFC, debuting in 2012.
In his debut, he was shot down by fellow countryman (also American) Dustin Poirier, by submission, still in the first round. After that, he engaged with three consecutive victories.
Then he suffered two consecutive defeats in 2013 to Dennis Bermudez and Conor McGregor, respectively. However, both defeats served for Max Holloway to come back on top, and with great prominence, having won 12 consecutive fights between the years 2014 and 2018. Thus, this sequence is considered the second largest in the history of the entire UFC, placing the fighter on the shelf of great legends such as: Jon Jones, Demetrious Johnson, Georges St-Pierre and Khabib Nurmagomedov.
In his last two matches, the American was defeated in both, by Alexander Volkanovski. His first defeat was in 2019, when he lost his featherweight belt. In July 2020, he tried to regain his belt and was again defeated.
Now, Holloway will enter focused on this fight, seeking to resume the path of triumphs and seeking to recover the belt ahead.
About Calvin Kattar
The also North American Calvin Kattar is 32 years old and started in MMA in 2007. In his cartel, he has 26 fights disputed, having been victorious in 22 opportunities and having suffered 4 defeats. Of all his triumphs, 11 were by knockout, 9 by decision of the judges and 2 by submission. His defeats were 3 by decision and one by submission.
Kattar is currently number 6 in the UFC ranking in the featherweight category, having started his career in events like the Combat Zone, EliteXC, World Championship Fighting, among others. However, he only debuted at Ultimate Fighting in 2017.
Since then, there have been six triumphs and two defeats. The first UFC victory came in 2017, against Andre Fili. The first defeat was only in 2018, against Brazilian Renato Moicano.
If on the one hand your opponent comes from two consecutive defeats, Calvin Kattar comes from two victories, both in 2020, against Dan Ige and Jeremy Stephes. Now, he is aware that this is a great chance to rise even further within the UFC, and he must go all out on his opponent.
UFC Betting
This event promises many emotions, both on the preliminary card and on the main card. However, the main event involving Max Holloway and Calvin Kattar promises even more, since both are very talented and aim for an evolution within the category.
We can expect a great fight from these two fighters, a fight that must be decided standing up, since both have the highest number of knockout victories.
However, Holloway has favoritism, as he is more experienced in MMA and because of everything he has shown in the UFC. Therefore, at Bet365 it is possible to find the odd worth @ 1.62 for Holloway's triumph.